Our culture
Working with health and wellbeing, we have decided to play in a different league. Our over 900 employees promote people's health and wellbeing in pharmaceutical distribution, dose dispensing and various expert roles. We foster our customer relationships and earn their trust every day.
We know that this is all because of you – our experts with broad range of knowledge, insights and enthusiasm. We are all eager to keep learning, growing and influencing for healthy living. We are proud of our sharing and caring team spirit, across businesses and countries. Together we enable Health for life.
What defines us as an employer?
During 2020, we asked our employees what they think about us as an employer, and what defines us. We were humbled by the results and it made us incredibly proud. Of course, we want to share this with you.
A wealth of expertise
With the industry's widest range of services in the Nordics, our employees have access to a wealth of expertise and inspiring career opportunities.
Encouraging health for life
Our important role in society gives working with us a purpose - we help people make healthy choices and feel better.
Great team and diversity
Together we create a friendly, healthy and secure atmosphere where we develop, have fun and share success. That is our team spirit!
Customer focus
We care for our customers and want to continue meeting their needs and exceeding their expectations - every day.
A chance to develop
For us, career develpment is a combination of your passion and our support. We do our best to boost our employees' development and we expect them to do the same with ours.
Health enablers
We have a healthy attitude, from diversity and inclusion to sustainability and wellbeing. With us, your competence is just as important as your learning attitude, service mindset and interest for health.
Everyday heroes
Working in Oriola means that you are an essential part of the distribution chain of pharmaceuticals and other health and wellbeing products. To thrive with us you will need to be open, proactive and responsible – and we will help you to develop your strengths.
Our values
Shared values capture what we have in common and what type of culture we want to create. Values also set guidance on desired ways of behaving and support our mission, vision, and reaching the strategic objectives.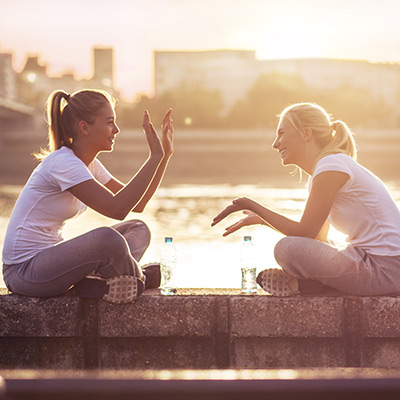 We want to have the best employee experience
People is one of the three key themes in our sustainability programme. To attract the right talents and enable our employees to focus on what they do best, we want to offer a fair and equal workplace, where everyone can flourish and develop. Therefore, we have set Best-in-class employee engagement as our long-term goal.